HUMAN SYSTEMS IMMUNOLOGY & INFLAMMATORY NETWORKS TEAM
Our team is an intercultural team coming from different countries and backgrounds. Our strength is due to the interdisciplinarity of our team members: clinicians/ doctors/ pharmacists/ bioinfo/ biostat/ biologists.
What differentiates us?
Collaborative team spirit
Our eagerness for innovation & scientific discoveries
Interconnected programs
Various subjects :

Commun point : The complexity of the living organism (La complexité du vivant)
Diverse approaches (bio data, bioinfo & biostat approaches, clinical data)
The study of human immunology using clinical samples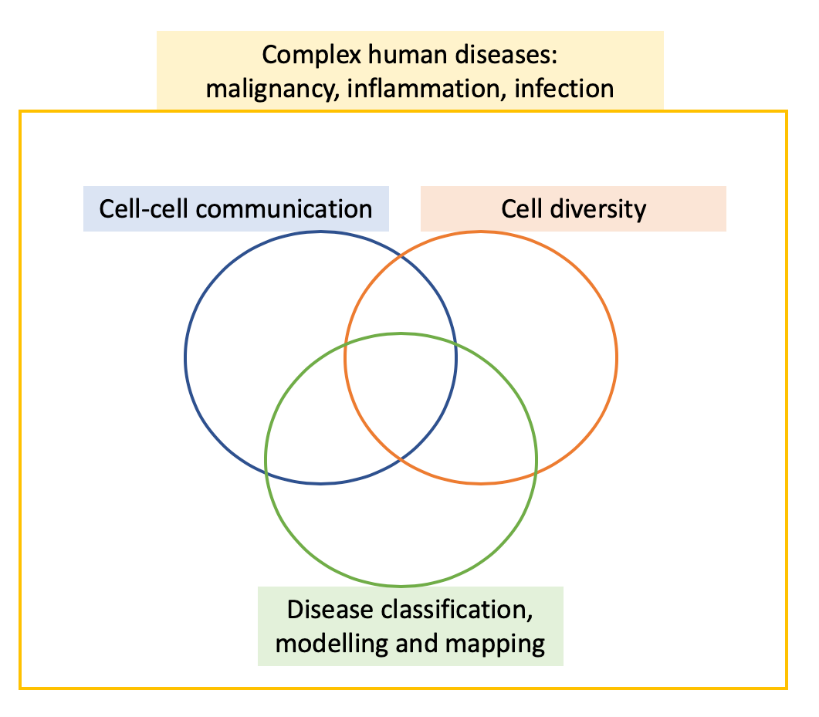 Our collaborative Network
We are part of a large National and International scientific and research network.
PhD & Post-doc projects
Cytokine mediated intercellular communication in the tumor microenvironment
Classification en grande dimension : apport des informations
Systematic study of OX40 Ligand context-dependent function on human T helper cell polarization
Transcriptomic classification of dermatitis: application to atopic dermatitis
Approche intégrative pour la modélisation des maladies auto-inflammatoires systémiques
EU projects
IMMUNAID

The European H2020 ImmunAID project is seeking to deliver a method for the rapid and accurate diagnosis across all the spectrum of SAID (systemic autoinflammatory diseases), in order to improve clinical management of SAID patients. The ImmunAID project brings together 25 institutions and 35 clinical centers from 12 European countries, under the coordination of INSERM.
For this project, a large patient cohort will be constituted with the aim to collect clinical data and biological samples from SAID patients and healthy donors, in order to perform unbiased multiomics approaches (genomic, transcriptomics, proteomics and microbiomics) as well as hypothesis-driven assays exploring the inflammasome, inflammation resolution and immune networks. The clinical data and the biological data obtained after analysis will go through big data analyses via a centralized data management strategy.
The main objectives of ImmunAID are:
To deliver a new, comprehensive and pathogenesis-driven classification of SAID
To open the way to a rapid and accurate diagnosis across all the spectrum of SAID
To identify and validate novel Omics- and pathway-based diagnostic biomarkers: genetic mutations (or combinations of genetic mutations), translational dysregulation, proteomics disequilibrium or microbiome alteration associated with SAID
To describe the potential dysregulation of inflammasome functions, to assess the role of cytokine network disequilibrium in the expression of SAIDs, and to explore inflammation resolution processes.
To get full information on the ImmunAID project please visit ImmunAID.eu or send a message to contact@immunaid.eu
This project has received funding from the EU's Horizon 2020 research and innovation programme under grant agreement No. 779295.
IMMUCAN (Integrated IMMUnoprofiling of large adaptive CANcer patients cohorts)

In the past, cancer research maintained a strong focus on exploring the genetic mechanisms driving tumour initiation, progression and resistance to treatment. This built valuable concepts of targeted therapy or precision medicine with development of targeted inhibitors. The resilience of certain cancer types indicated that cancer is not solely a genetic disease. Cancer development and progression involves the surrounding microenvironment. This tumour microenvironment (TME) consists of immune cells, blood vessels, lymphatic endothelial cells, and cancer-associated fibroblasts. These cells form a complex communication network mediated by soluble factors (cytokines, chemokines, growth factors), as well as direct interactions via inhibitory or activating cell-surface molecules.
Since the middle of the last century, it has become evident that both innate and adaptive immunity collaborate to eliminate early stage tumour. Consequently, tumours have developed mechanisms to escape immune surveillance. Final confirmation for the importance of the immune systems in controlling cancer was provided by the revolutional impact of immunotherapy therapy on cancer treatment.
The complexity and heterogeneity of the TME remains a key challenge for a better understanding of cancer development, progression and treatment. The IMMUcan consortium has formed to respond to this need. IMMUcan is an EU-funded, public-private partnership of expert immunologists, cell biologists, technology developers and clinical key opinion leaders.
The mission of IMMUcan is to generate broad molecular and cellular profiling data of the tumour microenvironment from up to 3,000 patients derived from five indications: non-small cell lung cancer, head and neck squamous cell carcinoma, renal cell carcinoma, colorectal cancer and breast cancer. IMMUcan will combine tumour and immune cell compartment information. All data will be integrated with clinical information to provide a better understanding of the TME and identify patients that might respond to treatment, as well as resistance mechanisms.
National projects
Industrial partnerships
CIFRE SERVIER : phenotypic and functional characterization of T cell diversity in human Diffuse large b cell Lymphoma microenvironment

See the team

See all publications

See all news